TCM Specialists of CMC
Our TCM specialists are First-class Chinese doctors and professors with many years academic and clinical experience and are responsible for herbal therapy treatments as well as Chinese Tuina (massage) therapy. Their advanced academic theories and techniques result in remarkable results in the treatment of both common and more complicated diseases.
Our Western doctors who have also been trained in China in the field of acupuncture and are members of NAAV (Dutch Association of Doctor-Acupuncturists) are responsible for acupuncture treatments.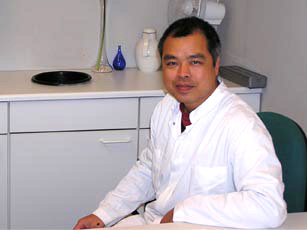 Dr. Zhao Pingzheng
Internal medicine Specialist
Dr. Pingzheng Zhao (Internal medicine specialist) graduated from Guangxi College of Traditional Chinese Medicine in 1988.
Since then he has been working as a TCM doctor in a hospital in Yangsuo for more than 10 years. He is specialized in the treatment of the following diseases: pulmonary emphysema, chronic gastritis, gastroduodenal ulcer, hypertension, insomnia, and palpitation,etc.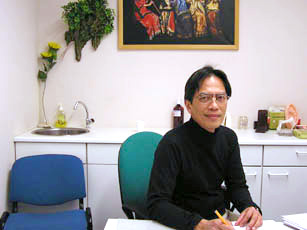 Dr. M.A.S. Satjadibrata
Graduated in 1975 as a medical doctor and in 1980 he graduated as well as a surgeon in Surabaya, Indonesia.
He received his license to practice Medicines in the Netherlands in 1994 and is BIG registered since 1998. He followed an education for doctor-acupuncturist at the Nederlandse Artsen Acupunctuur Vereniging (NAAV) and he is member of the NAAV since 1997. He considers acupuncture an effective form of the Traditional Chinese Medicine that can support and supplement the regular medicine. He is also a supervising doctor for acupuncture students.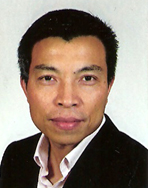 Dr. Weixiang Wang
Acupuncture Specialist
Dr. Weixiang Wang PhD (Acupuncture specialist) Dean of Shenzhou Open University of TCM Associate Professor of Nanjing University of TCM, China Former TCM Doctor of SOS International, Nanjing, China
Dr. Weixiang Wang graduated from Nanjing University of TCM in 1989 and has been working for the University and her affiliated hospitals as a doctor, lecturer and associate professor since then until October 2003. He received his Master's and Doctor's degree from the same university afterwards.
He was invited to practice and lecture in Ireland, UK, Germany, Hong Kong, Austria and Switzerland and achieved great success. He took part in a joint clinical study on the treatment of hypertension by acupuncture sponsored by Nanjing University of TCM China and Erlangen University Germany from 2001 to 2002 in Germany and during that period he also worked in a local hospital for patients with pain syndrome treating them with Chinese medicine.
He specializes at the treatment of the following diseases and disorders with a combination of acupucture, Tuina therapy and herbs: hypertension, insomnia, headache, fibromyalgic syndrome, chronic fatigue syndrome, 'frozen shoulder', simple obesity, cervical spondylopathy, stroke, prostatitis, allergic problems, poor immune function, etc.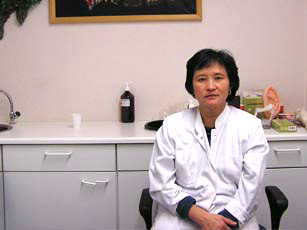 Dr. S.M. Sukrisno
She was born in Indonesia. At the age of 15 she moved to China where she completed her high school.
In 1976 she graduated her medical doctor's training in China. After moving to the Netherlands she studied medicines at the VU in Amsterdam where she received her diploma in 1990. She studied acupuncture in China and in the Netherlands and is member of the Nederlandse Artsen Acupunctuur Vereniging (NAAV) since 2005.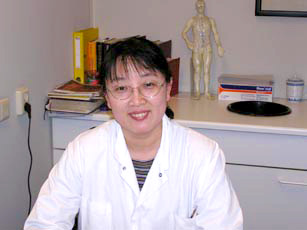 Dr. Liping Zhao
Dermatology Specialist
Dr. Liping Zhao (Dermatology Specialist), Vice-Director of the dermatology department of the Affiliated Dongzhimen Hospital of Beijing University of Traditional Chinese Medicine Associate Professor/ Advisor of Master students.
Doctor Liping Zhao, graduated from Beijing University of TCM in 1982. She is an associate professor and advisor of master students of Chinese medicine at the Dongzhimen Hospital which is affiliated with the Beijing University of TCM.
For the past 20 years she has been practising, teaching and doing research in the field of Chinese herbs and acupuncture with an emphasis on dermatology and she has accumulated a vast knowledge and expertise in the treatment of eczema, psoriasis, neuro-dermatitis, urticaria, pruritis, alopecia, tinea manuum, leukodermia etc.
Dr. Zhao has unique viewpoints on the study and combined TCM treatment of people with an allergic physical constitution Apart from that, she posesses rich experience in the treatment of gynaecological diseases, e.g. irregular menstruation; and of digestive disorders in children